Today is Trevor's 13th birthday. I cannot believe how quickly he has grown! There are no words to express how proud I am of him, or of the joy he has brought to my life over the 13 years I've been his mom. This layout is about one of countless times he's shown the world what an awesome person he is.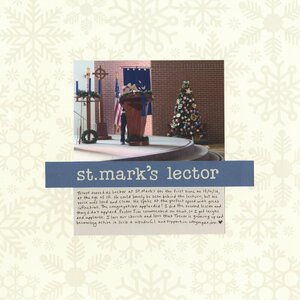 St. Mark's Lector
(affiliate link)
Trevor served as a lector at our church for the first time at age 10. He was so small we could barely see him peeking above the lectern as he read. But we heard him loudly and clearly. He did an amazing job reading the text at just the right volume and speed, with just the right inflection.

Since then, he's done the readings 8 or 9 times. He can see over the lectern now, and his voice is just as good as it was that first time. I don't take photos in church very often, but I am so glad I took this picture. I hope he'll get a chance to do the readings at least one Sunday in Advent this year so that I can take a photo. What a great layout that would be, showing how Trevor is growing in the church in every sense of the word.