In May, Trevor's Boy Scout troop camped at Bodega Bay, where they dug for clams and fished for crabs. They referred to the trip affectionately as Crab Camp. Crab Camp was a great success... as long as you measure success by the boys having a great time and not by how much they brought back for dinner! The Scouts successfully dug up dozens of clams, but they were not safe to eat. The group caught exactly one crab that was legal sized, which is not quite enough to feed a group of hungry boys and leaders. Some dads saved the day by buying crabs to supplement the catch. And, of course, the Scouts always practice their motto of "Be Prepared" and had brought plenty of other food along.
When I chose the photos to use, I knew I wanted to include a group shot, photos of Trevor digging and fishing, a picture of the campsite, and the photo Steve got of the group hiking toward Bodega Head. I added a shot of three of the Scouts, Trevor huddled behind his tent (which was acting as a much-needed wind break), and a picture of the reason why the boys' bait kept disappearing (aka the California sea lion).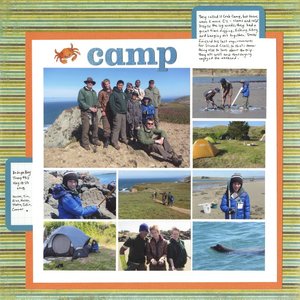 Crab Camp
(affiliate link)
I put together my block of photos, leaving space at the top for the title. I thought I'd be able to squeeze in my journaling to the right of the title, but it wasn't enough space. So I split a journaling card and allowed the writing to spill from the card to the white space next to the title. I've never done that before and I'm not sure I love it aesthetically, but it's more important to me to get the details down that to have everything look perfect. I used the second half of the card to add the who, when and where, which serves the double purpose of bringing the eye to the photo of Trevor.