Steve and I usually celebrate our anniversary with a quick getaway for the two of us. We pick a town within an hour or two drive, drop Trevor off with grandparents, and spend time exploring the town, eating well, and just hanging out enjoying each other's company. It's something we both really enjoy and it makes our anniversary special.
In 17 years of marriage, we've done that 14 times. We didn't go anywhere for our 2nd anniversary because I was 9 months pregnant. We were in COVID lockdown for
our 16th anniversary
. Rather than have another anniversary celebration at home for three, we decided to celebrate our 17th anniversary with friends instead. We hadn't seen Suzzi and Ronan since
we'd evacuated to their house
in August 2020, so it was wonderful to spend time with them for a happier reason.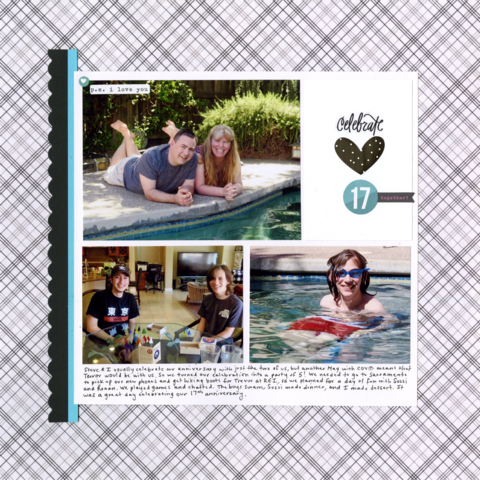 Celebrate 17 Together
(affiliate link)
I started out with the intention of making the layout entirely black and white so that the photos would really pop. I wanted the title to be 'Celebrate 17 Together.' When I looked through my stickers, I realized the teal 17 was the perfect size to go with Celebrate and Together. Rather than having a single teal element, I added that thin cardstock strip to the left and a tiny heart sticker next to the caption on the photo of Steve and me poolside. I'm really happy with the layout.

Hopefully we can get back to anniversary getaways in 2022 for our 18th.