This is one of my favorite layouts I made on National Scrapbook Day. It's clean and crisp, simple but not boring, has plenty of journaling, and puts the emphasis fully on the photo of the world's cutest rabbit. And most of the supplies I used are really old, which is always quite satisfying. I'm sure many of you recognize the BasicGrey letters. The background paper is 17 years old, made by a company that has apparently been gone so long that I don't remember at all. Does Sweetwater ring a bell to any of you?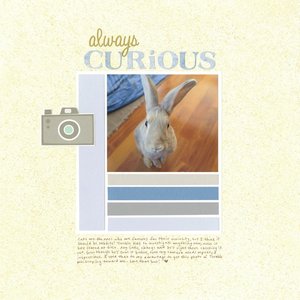 Always Curious
(affiliate link)
For the challenge, I chose between three mood boards to use as inspiration. I selected this one:
It should be fairly obvious, but I was very inspired by the colors. I was also drawn to the strong horizontal lines in three of the photos. And, of course, the simplicity. I'm certain that I wouldn't have gone this direction without the influence of the mood board. That's what I love about challenges.