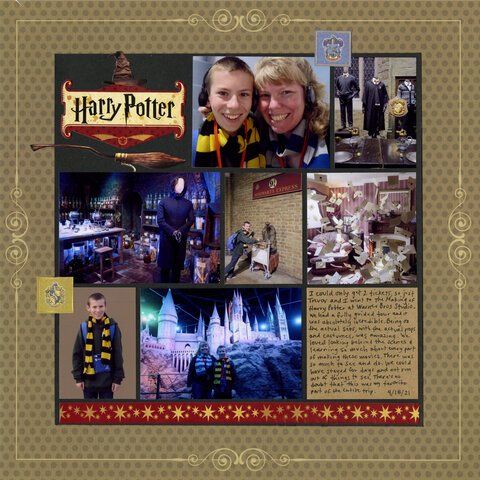 The Making of Harry Potter
(affiliate link)
As usual, I really struggled trying to decide which pictures to include on the scrapbook layout. I used 75+ photos for
the blog post
about the visit, so you can imagine how hard it was to narrow those down to the seven I used!
Once I picked my photos, the layout came together easily. I made my photo grid, constructed the title using three stickers, added a journaling box, and anchored the layout with the sticker strip across the bottom. The last touch was adding the Hufflepuff sticker next to Trevor and the Ravenclaw sticker by me.
I'm so happy with this layout and thrilled to have it in the album. Only two more pages to go before I've finished scrapping
our 2019 Europe trip
.