Tomorrow, 6/20/20, is my parents' 50th anniversary. We were supposed to celebrate with them on a cruise along the California coast. But the cruise was canceled and instead we're wishing them the best from afar.
I made this layout as a gift for them. The photo is actually from
last year's Europe trip
.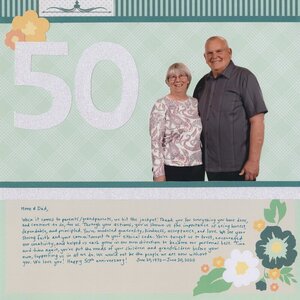 See that empty spot at the bottom beneath my journaling? It's supposed to have our signatures. I'd planned bring it, the pen, a frame, and bubble wrap along on the cruise, have my sister's family add their signatures to ours, and then we'd frame it and present it to our parents. I'd even thought to have my sister leave room in a suitcase to take it back to Idaho in case my parents didn't have space for something they weren't expecting. Sigh.
Anyway, happy 50th anniversary to you, Mom and Dad. We love you and wish we could be there.