Nothing has been normal in 2020, which is why I'm just now sharing the layouts I made for my godchildren's July birthdays. After not seeing each other for WAY too long, we finally had a chance to meet for a brief, socially-distanced gift opening.
Here is the page I made for
Ellia
, age 11. She's getting so big! I didn't get close to her when we visited, but I wouldn't be surprised if she is nearly as tall as I am.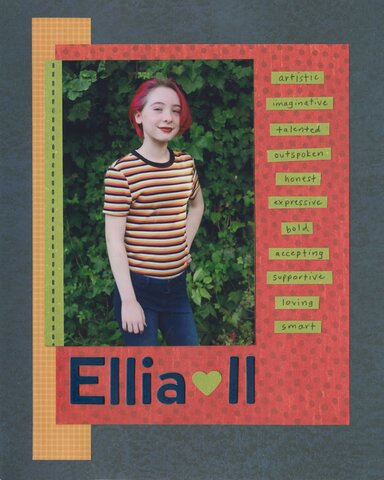 Ellia at 11
(affiliate link)
At the 14-year old's request, I'm sharing a censored version of the birthday layout. I know for certain that I'm the shorter of the two of us.
And speaking of shorter, check out this photo that Courteney snapped when Trevor and I delivered the birthday layouts.
Am I slouching? (I don't think so.) Is the pavement sloped? (Doesn't seem like it.) Or is it time for me to make a new version of
this layout
? (Probably.) Could Trevor have grown that much between September 23 and November 13 when the two photos were taken? (Yes, based on how much he eats.)
It's crazy seeing these kids growing up! Crazy awesome, that is.