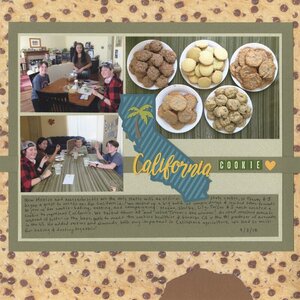 California Cookie
(affiliate link)
The layout design started with a mistake. When I order photo prints, I want the originals, not the ones that I watermark before putting them on my blog. But I accidentally printed the watermarked version of the plates of cookies. Sigh.
I was determined to make it work. After trying a bunch of different things, I came across the die cut of California I'd received in my
VIP goodie bag at Pinners Conference
. It covered up the watermark perfectly. I added the letter stickers and heart to finish the title. Having the title so high made the layout unbalanced, but I couldn't lower it without the watermark showing. Inspiration struck and I took a (faux) bite out of the bottom to help balance the page.