I was hesitant to share this layout here because it barely counts as scrapbooking. Literally all I did was glue our 2017 Christmas card in the center of a piece of patterned paper, add a strip of black cardstock, and stick on a die-cut snowflake. It took 2 minutes, tops.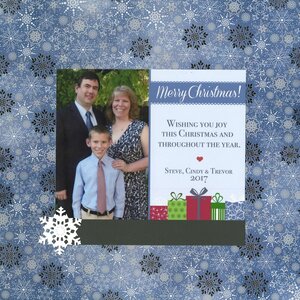 Christmas 2017
(affiliate link)
But I did decide to share it. Why? Because it IS scrapbooking. There's no title, there's no journaling, there's no artistic arrangement of elements, and there's just one lonely embellishment. (
I did design the Christmas card myself
, so I guess there's that.) But none of those are mandatory in scrapbooking. My reason for scrapbooking is to record our family's memories. Most of the time, I choose to do that in an artistic manner because I love playing with paper and experimenting with design. But ultimately, I want our scrapbooks to trigger memories and document our lives. Bonus points if the pages turn out looking great.
What's your reason for scrapbooking?